Unforgiven
- Allison Glock, ESPN The Magazine
LOCATED IN A WAREHOUSE outside Dallas, the windowless Metroflex Gym is not air-conditioned, an aesthetic choice that edits the clientele to a select group of cops, bikers, bodybuilders and other masochists who thrive on the deprivation that exercising in unfiltered 110-degree heat produces. Inside on this blazing midsummer day, patrons are greeted by a 10-foot wooden cross and the rib-rattling sounds of speed metal or hardcore rap. The walls are plastered with bodybuilding glossies, pictures of champions past and present, including local hero and former Mr. Olympia Ronnie Coleman. Above the photos, artwork depicts the end times -- which, in the given environment, are easy to imagine.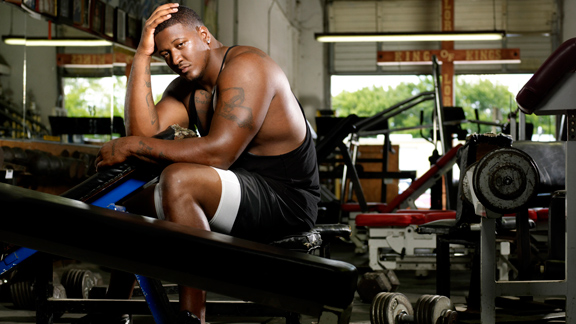 Below the cross, NFL hopeful Tony Washington is pumping out a set of curls. At 6-foot-7 and 310 pounds, the 24-year-old offensive lineman is easily the biggest man in a room filled with big men. His shoulders are the size of canned hams; his thighs cement-solid. As he pauses to swig water laced with protein powder, a 4-year-old girl toddles over and stops at his feet.
"My mama is over there," she shouts, pointing a chocolate-covered finger toward the rear of the gym.
Washington smiles, gives her a gentle high-five. "You gonna work out too?" he asks, crouching to meet the girl eye-to-eye. She shakes her head.
"Is that chocolate bar for me?" he teases.
"No!"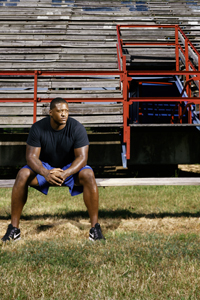 Washington laughs, then nods to the mother, who gives him a thumbs-up. "Looking good, Tony!" she yells over the music.
He returns to his reps, sweat running like water over his cheekbones and neck. A 20-something dude wearing long shorts and flip-flops passes by, reaches up, punches Washington in the chest. "What up, brah?"
Washington nods hello while the dude raps along with the radio and rhymes right in his face -- "Put a cap in yo' muthaf---in' head!" -- bobbing up and down until, finally, he starts laughing, doubling over at his own drollery, then dances away, chin jerking like a chicken's.
"That guy, he was born rich," Washington says impassively. "And his dad lost everything. So now he has to start over." He takes his baseball cap off, turns it backward, puts it back on. "He's trying to build himself a life from nothing." The big man smiles, lips tight. "Kind of like me."
(more)
---------------------------------------------------------------------------------------
In Division II, they play college football for the love of the game - Berry Tramel, The Oklahoman/NewsOK
WEATHERFORD — Mike Van Deripe loves the feeling of walking onto a football field. Loves the feeling of the fans. Loves the feeling of victory.
The Southwestern State quarterback didn't experience them all Thursday night. Emporia State beat the Bulldogs 27-7 at bustling Milam Stadium. But Van Deripe's college football career continued. He's like a lot of players at the Division II level. He's not ready to let go of the game.
Real football returned Thursday night. Not scrimmages. Not exhibitions. Not indoors. Real football, with a scoreboard and with that intoxicating percussion beat and with passion unsurpassed in this most American of sports. Small-college football is the game in its purest form.
No holdouts and no HBO, no agents and no coaches making $2 million a year, like the levels above. No school boards and parents demanding coaches' hide and recruiting scandals of players not old enough to even drive, like the levels below. This is where football really is played for that most trite of reasons.
Love of the game.
------------------------------------------------------------------------------------
Defense dominates most of Purple-White scrimmage - Brad Keith, Empire Tribune
For the Tarleton State offense, the best thing about next week's season opener will be facing somebody besides the Texan defense.
Tarleton opens with Northeastern State at 7 p.m. Thursday at Memorial Stadium, but first they held their annual public dress rehearsal with an intrasquad scrimmage Wednesday night.
"Our defense is fast," Fowler said. "We can really fly to the ball."
That speed was on display Wednesday, as the defense was dominant for the most part against their offensive counterparts. The Texans, who open the season ranked No. 18 in the nation by D2football.com, were third in the Lone Star Conference in both total defense and scoring defense last year.
The offense averaged just 3.6 yards per run and passed for only 72 yards. The good news offensively, was starting QB Nick Stephens passed for 41 yards in the two-minute drill, setting up a 29-yard field goal before time expired.
The only offensive touchdown came when back-up quarterback Aaron Doyle hit Chuck Stermer over the middle and the receiver fought through a tackler right at the goal line. Stermer and Arthur Buckingham led the team in receptions, with Devon Gray also making multiple grabs.
Stephens is the clear starter over Doyle, Fowler says, but Doyle will see time. The Texans have packages specifically intended to take advantage of the redshirt freshman's mobility, and may even use him in the wildcat.
"Nick is the starter, I know that," Doyle said at Tarleton's media night Tuesday. "I'm just fortunate to learn from him. There's no rivalry between us at all. I just want to help the team, whether it's returning kicks or punts, running the wildcat, whatever."
The special teams made highlights, particularly when track star turned receiver Jamal Mays split the seams on a punt return for a 75-yard touchdown.
The Texans worked systematically through a number of game-type situations, including all kinds of punting situations, and goalline, two-minute and four-minute offense and defense.
"We wanted to go through as many scenarios as possible," said Cary Fowler. "The only thing we didn't do was onside kick, and that's just because we didn't want to get anybody killed."
The Texans are moving into game-week mode and classes begin on campus next week. Fowler likes kicking the season off at home during Thursday of the first week of school.
"All the spirit groups and everybody will be on campus and excited about the start of the new year," Fowler said. "Not just a new football season, but a new school year, too.
"It's for real now," Fowler continued. "We're tired of working against each other, we're ready to go to work against somebody else. We'll be excited Thursday night to go against somebody wearing green instead of purple."