Scott Wright, NewsOK.com
Running back Jeff Carr is leaving Oklahoma State and will transfer to Texas A&M-Kingsville, according to a report. GoPokes.com initially reported news of Carr's departure on Monday, which was the first day of classes at OSU.
Carr, a 5-foot-7, 190-pound junior, had seen several freshmen working toward playing time in the Cowboys' running back rotation behind sophomore starter Justice Hill.
The Temple, Texas, native is expected to be immediately eligible at the NCAA Division II program, which is a member of the Lone Star Conference. Carr played in seven games last season, carrying the ball 12 times for 85 yards, while also contributing on special teams.
Kale Steed, Amarillo.com
Following two full weeks of fall practices mixed in with Saturday's scrimmage, first-year West Texas A&M head coach Hunter Hughes announced redshirt freshman Justin Houghtaling will be the team's starting quarterback for the season opener against Azusa Pacific on Sept. 2.
"We talked the quarterbacks Sunday night about it," Hughes said. "Justin (Houghtaling) will be the starter and Ben (Arbuckle) will be the back up. I challenged both of them. This thing is not over but we have to get a guy going with the starters and get him the reps."
Redshirt freshman Skyler Bonneau was taking the most reps with the starting unit until going down with an undisclosed injury in practice last week. Hughes said during an interview after Saturday's scrimmage that Bonneau is expected to miss three to four weeks.
Donnie Palmer II, Times Record News
Building a defense usually starts up front and in the middle of the defense.
Midwestern State, picked second in the Lone Star Conference, will have to find production replacements from last season's defensive front.
The 2016 Mustangs were heavy on seniors, and this year they are looking for a few guys to pick it up and lead the new guys. Gone are the likes of Harold Willis, Edgar Luna and Darian Childers.
Junior defensive end Alec Divalerio will be depended on heavily to lead the group of young defensive linemen. Divalerio, who started all 11 games and had 10 tackles for loss and 5.5 sacks, will be the only returner up front for defensive line coach Randy Wilkins..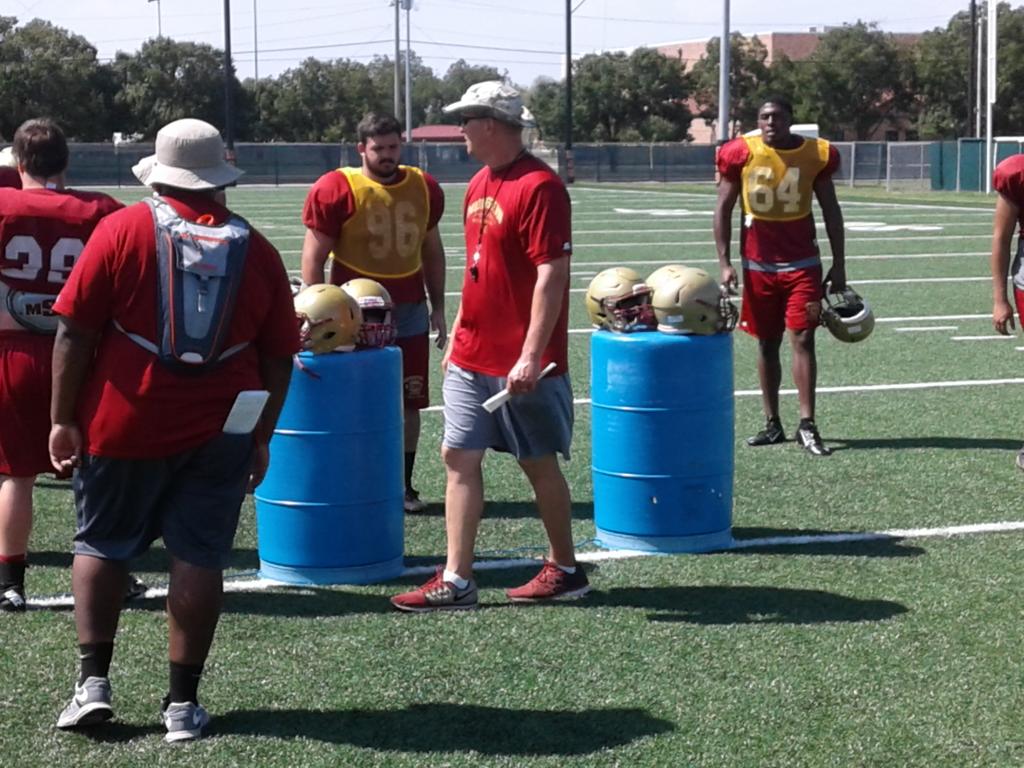 Brad Keith, The Flash Today
Speaking at a national signing day celebration in February, Tarleton State football head coach Todd Whitten spoke fondly of one player in particular, not because he was an overly impressive athlete who figures to have a great career ahead at Tarleton, but because of what he had already done in her,vice of our country.
Written said when he's wrapping up a recruiting trip to a junior college he always makes it a point o ask if there was anyone that other schools may not be on who has a unique story, something the makes him a special person to have in their program.
A special teams coach overheard Whitten and before long was introducing him to special teams captain Jacob Kaspar. At 6-0, 175, the coach couldn't have been overly impressed. He had just met with Xavier Turner, who two falls earlier, rushed for more than 2,900 yards as a senior at Birdsville High School, and Deon Sppard a 6-4, 295 pounds.
But sometimes it's the size of the man inside, not the size of pads he wears, that makes him special. Kaspar, you see, was late getting into the college game because he spent five years serving our country as an infantryman in the US Marines.
also
Tradition-rich Mustangs picked to win Heartland - Andy Newberry, Times Record News
Novacek reflects on career, offers wisdom - Zach Duncan, Times Record News
Lone Star Conference Football Capsules - Andy Newberry, Times Record News