Just a friendly reminder that you can easily make a donation by clicking on the Paypal link to the right, or you can email us at
lscscoop@yahoo.com
to find out more information. A big thank you to Ray Rodriguez for his awesome contribution.
-----------------------------------------------------------------
We have started our LSC Football previews. You can find the first two, UTPB and WNMU here
Season Preview Central.
-----------------------------------------------------------------
Falcon football opens year two with a clean slate
Jake Gadon, CBS7
-----------------------------------------------------------------
Football stadium part of MSU strategic plan
Lana Sweeten-Shults, Times Record News
The field is still wide open for a football stadium at Midwestern State University.
In its five-year strategic plan, which the university's board of regents approved Friday, MSU reaffirmed its desire to secure $12 million to $15 million to begin construction of a 7,000-seat athletic stadium by 2020. The goal is to have about 70 percent of the funding come from donors.
MSU's administrators have been gauging interest in the project over the summer, approaching a few donors about the project.
At the same time, the regents heard that the Wichita Falls ISD wants to discuss the rates it charges MSU for use of Memorial Stadium. The university currently rents the stadium for athletic use. (Full Story)
--------------------------------------------------------------------
Kale Steed, Amarillo Globe News
The highly anticipated Hunter Hughes era is underway at West Texas A&M as the Buffs opened camp Monday afternoon.
WT, with the rest of Division II, started practices a week early due to the NCAA rule changes that eliminated two-a-day workouts. WT's practices will consist of one three hour practice per day.
The Buffs had 106 players report to fall camp, with big changes in store for the upcoming 2017 season.
(Complete Story)
---------------
Editor's Note: This is part of an ongoing Q&A series leading into the start of preseason practices at area high schools and Tarleton State. This piece features Tarleton head coach Todd Whitten, whose Texans are due on campus Monday and begin practice at 9 a.m. Tuesday.
STEPHENVILLE (August 5, 2017) — Todd Whitten hopes his second season back at Tarleton State ends with Lone Star Conference rivals referencing the Texans with the old saying, "What a difference a year makes."
Whitten, who is in the midst of his third go-round as head coach at Tarleton, has 55 wins at the school, the most of any coach in its 56 years as a senior college. His club was 5-6 last season, after going 3-7 before his arrival.
What improvements will the Texans make this year? Let Whitten tell you himself:
(Continue to website)
Shawn Best, one of several impact transfers
---------------
Andy Newberry, Times Record News
Monday won't only mark the beginning of football practice for high schools around Texas, but also for the Midwestern State Mustangs.
The NCAA isn't allowing two-a-day practices any longer, but the Mustangs had 118 players report Saturday as they get ready for the first of their 20 preseason practices on Monday afternoon.
Eight of those reporting will be in the quarterback battle, although offensive coordinator Adam Austin has let his guys know that competition pool will shrink after the team's first scrimmage so there's about eight live chances for the quarterbacks to shine.
(Complete Story)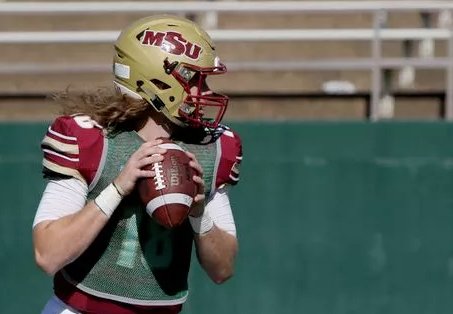 Layton Rabb from the Spring Game (Courtesy Times Record News)
Andy Newberry, Times Record News
Midwestern State enjoyed cooler temperatures, cloudy and in the 80s, in the first day of football practice Monday afternoon.
But Bill Maskill believes it was warm enough to work off some rust as the team begins preparation for its opener Aug. 31 at Memorial Stadium against Quincy University. The veteran head coach cautioned the team "isn't ready to play a game yet" but then they're not supposed to be.
"I think we had a lot of energy and enthusiasm," Maskill said. "We're in pretty good I think. We're rusty but guys haven't done anything as far as team all summer.
(Complete Story)
Photo courtesy Times Record News